Jungle Coaster Ticket
Available
Regular Price
150 Baht
Jungle Coaster (1 round) is similar to a roller coaster in which visitors will ride, in open cars, along the track with tight turns down the hill. Riders can control velocity by using a brake stick – The first and the only ride of its type in Thailand.
More Information
All tickets can be used once only
Visitors must purchase a ticket at least 1 day in advance
ราคานี้ไม่รวมบริการรถรับ-ส่ง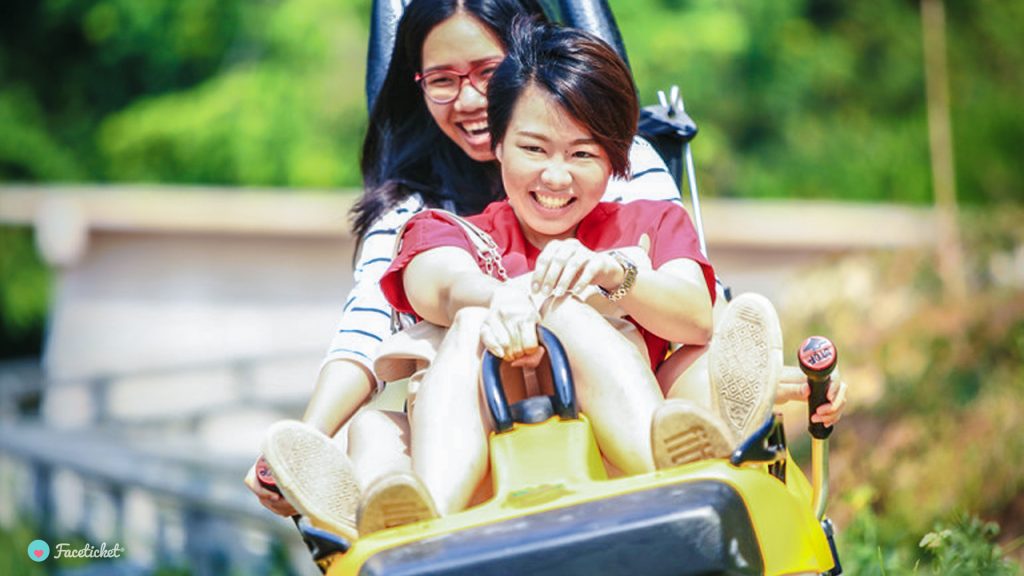 Jungle Coaster Ticket Special Price
The prices shown in the table below are in Thai currency, updated on 21 January 2021 FaceTicket updates the prices automatically by Pelody© Prices readjusted in
Prices readjusted in And sometime special promotions that automatically update .
| | Adult |
| --- | --- |
| Regular Price | 150 |
| 22 January 2021 | 144 |
| 23 January 2021 | 142.5 |
| 24 January 2021 | 142.5 |
| 25 January 2021 | 142.5 |
| 26 January 2021 | 141 |
| 27 January 2021 | 141 |
| 28 January 2021 | 139.5 |
| 29 January 2021 | 139.5 |
| 30 January 2021 | 139.5 |
| 31 January 2021 | 138 |
| 1 February 2021 | 138 |
| 2 February 2021 | 138 |
| 3 February 2021 | 136.5 |
| 4 February 2021 | 136.5 |
| 5 February 2021 | 136.5 |
| 6 February 2021 | 135 |
| 7 February 2021 | 135 |
| 8 February 2021 | 135 |
| 9 February 2021 | 135 |
| 10 February 2021 | 135 |
| 11 February 2021 | 135 |
| 12 February 2021 | 135 |
| 13 February 2021 | 135 |
| 14 February 2021 | 135 |
| 15 February 2021 | 135 |
| 16 February 2021 | 135 |
| 17 February 2021 | 135 |
| 18 February 2021 | 135 |
| 19 February 2021 | 135 |
| 20 February 2021 | 135 |
| 21 February 2021 | 135 |
| 22 February 2021 | 135 |
| 23 February 2021 | 135 |
| 24 February 2021 | 135 |
| 25 February 2021 | 135 |
| 26 February 2021 | 135 |
| 27 February 2021 | 135 |
| 28 February 2021 | 135 |
| 1 March 2021 | 135 |
| 2 March 2021 | 135 |
| 3 March 2021 | 135 |
| 4 March 2021 | 135 |
| 5 March 2021 | 135 |
| 6 March 2021 | 135 |
| 7 March 2021 | 135 |
| 8 March 2021 | 135 |
| 9 March 2021 | 135 |
| 10 March 2021 | 135 |
| 11 March 2021 | 135 |
| 12 March 2021 | 135 |
| 13 March 2021 | 135 |
| 14 March 2021 | 135 |
| 15 March 2021 | 135 |
| 16 March 2021 | 135 |
| 17 March 2021 | 135 |
| 18 March 2021 | 135 |
| 19 March 2021 | 135 |
| 20 March 2021 | 135 |
| 21 March 2021 | 135 |
FaceTicket
---