Zipline Package
Available
Regular Price
3,000 Baht
Zipline Package
Details of amusement attractions in the package
Zipline (14 platforms ~45 Minute) is a thrilling ride employing a cable across a valley for adventure seekers. While traveling, riders can explore a lush jungle of Chiang Mai, and will also be fascinated by a panoramic view of Mon Long (Mon Kwam Long) and the Nong Hoi Royal Project from an elevated view.
Jungle Coaster (1 round) is similar to a roller coaster in which visitors will ride, in open cars, along the track with tight turns down the hill. Riders can control velocity by using a brake stick – The first and the only ride of its type in Thailand.
Jungle Bicycle (1 round) offers fun experiences of cycling on a 200-metre cable while enjoying a view from a bird's eye view.
Quick Jump (1 round) is similar to bungee jump involving jumping from a 14-metre-tall structure to the base at a certain velocity for the first 5 metres before gradually slowing down.
Giant Swing (1 round)
Coffee & Cake 1 set Or Lunch buffet
Shuttle van round trip
Remarks
Adventure are designed for participants of average mobility, fitness and strength who are in reasonably good health. Obesity, High blood pressure, cardiac and coronary artery disease, pulmonary problems, pregnancy, arthritis, prior head, neck, or back injuries or other joint and muscular-skeletal problems may impair the safety and well-being of participants; as may other medical, physical, psychological and psychiatric problems (Conditions). All or any of these Conditions may increase the inherent risks of experience and cause the Participant to be a danger to themselves or others.
Pongyang Zipline allowed participants who have age between 7 – 70 years old. And the maximum weight is 100kg. Pongyang Zipline reserves the right to ask Participants to be weighed prior to taking part in the activity.
Participants under 12 years of age must be accompanied by a parent or guardian properly authorized to agree to these Booking Terms and sign the Participation Waiver on that minor's behalf.
Zipline is an outdoor activity. Weather is changeable therefore all Participants must dress accordingly.
Package details
Included in the package: admission fee and amusement attractions specified in the package, personal accident insurance with the coverage of 1 million Baht, and a medical expense up to 500,000 Baht
Included in the package: transport chiang mai downtown.
More Information
All tickets can be used once only
Visitors must purchase a ticket at least 1 day in advance
Visitors must bring the FaceTicket to obtain an admission ticket at a physical ticket collection point, Pongyang Jungle Coaster & Zipline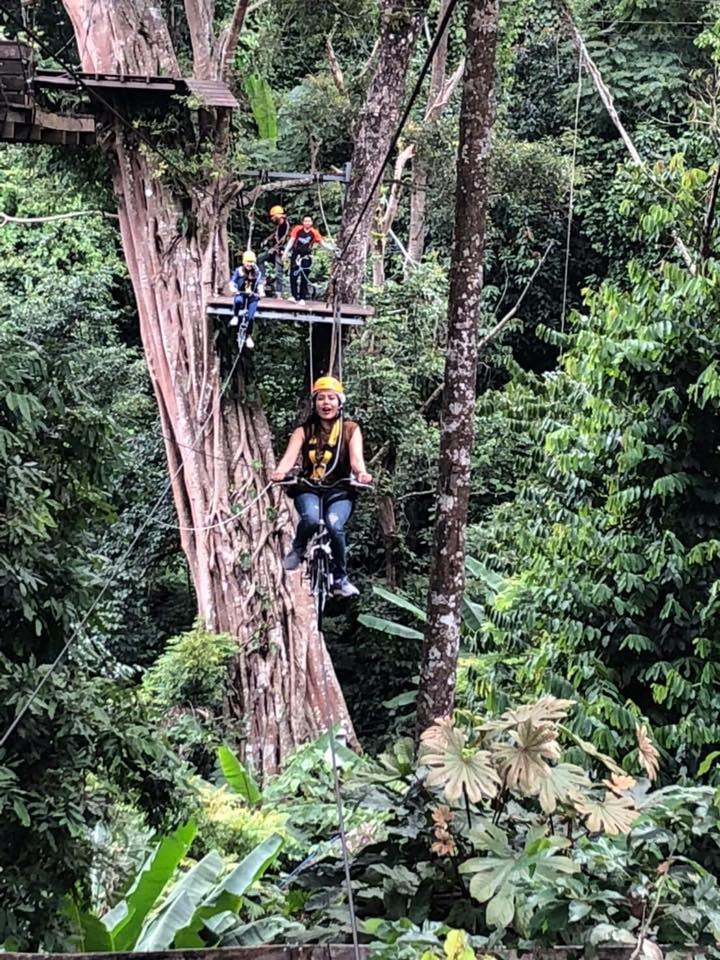 Zipline Package Special Price
The prices shown in the table below are in Thai currency, updated on 24 July 2021 FaceTicket updates the prices automatically by Pelody© Prices readjusted in
Prices readjusted in And sometime special promotions that automatically update .
| | Adult |
| --- | --- |
| Regular Price | 3,000 |
| 25 July 2021 | 2850 |
| 26 July 2021 | 2850 |
| 27 July 2021 | 2880 |
| 28 July 2021 | 2820 |
| 29 July 2021 | 2964 |
| 30 July 2021 | 2820 |
| 31 July 2021 | 2964 |
| 1 August 2021 | 2790 |
| 2 August 2021 | 2790 |
| 3 August 2021 | 2790 |
| 4 August 2021 | 2760 |
| 5 August 2021 | 2964 |
| 6 August 2021 | 2730 |
| 7 August 2021 | 2940 |
| 8 August 2021 | 2730 |
| 9 August 2021 | 2700 |
| 10 August 2021 | 2730 |
| 11 August 2021 | 2700 |
| 12 August 2021 | 2964 |
| 13 August 2021 | 2670 |
| 14 August 2021 | 2880 |
| 15 August 2021 | 2640 |
| 16 August 2021 | 2640 |
| 17 August 2021 | 2670 |
| 18 August 2021 | 2610 |
| 19 August 2021 | 2970 |
| 20 August 2021 | 2580 |
| 21 August 2021 | 2730 |
| 22 August 2021 | 2400 |
| 23 August 2021 | 2250 |
| 24 August 2021 | 2370 |
| 25 August 2021 | 2400 |
| 26 August 2021 | 2760 |
| 27 August 2021 | 2460 |
| 28 August 2021 | 2670 |
| 29 August 2021 | 2520 |
| 30 August 2021 | 2580 |
| 31 August 2021 | 2610 |
| 1 September 2021 | 2640 |
| 2 September 2021 | 2964 |
| 3 September 2021 | 2640 |
| 4 September 2021 | 2850 |
| 5 September 2021 | 2640 |
| 6 September 2021 | 2640 |
| 7 September 2021 | 2670 |
| 8 September 2021 | 2640 |
| 9 September 2021 | 2964 |
| 10 September 2021 | 2640 |
| 11 September 2021 | 2850 |
| 12 September 2021 | 2640 |
| 13 September 2021 | 2640 |
| 14 September 2021 | 2670 |
| 15 September 2021 | 2640 |
| 16 September 2021 | 2964 |
| 17 September 2021 | 2640 |
| 18 September 2021 | 2850 |
| 19 September 2021 | 2640 |
| 20 September 2021 | 2640 |
| 21 September 2021 | 2670 |
| 22 September 2021 | 2640 |
| 23 September 2021 | 2964 |
| 24 September 2021 | 2640 |
| 25 September 2021 | 2850 |
| 26 September 2021 | 2640 |
| 27 September 2021 | 2640 |
| 28 September 2021 | 2670 |
| 29 September 2021 | 2640 |
| 30 September 2021 | 2964 |
| 1 October 2021 | 2640 |
| 2 October 2021 | 2850 |
| 3 October 2021 | 2640 |
| 4 October 2021 | 2640 |
| 5 October 2021 | 2670 |
| 6 October 2021 | 2640 |
| 7 October 2021 | 2964 |
| 8 October 2021 | 2640 |
| 9 October 2021 | 2850 |
| 10 October 2021 | 2640 |
| 11 October 2021 | 2640 |
FaceTicket
---